Published:
May 15, 2018
GDPR is the EU's NEW Data Protection Regulations which come into force on Friday 25th May 2018.
Waterford Sports Partnership, in collaboration with the Waterford PPN, provided two free workshops for Sports Clubs and Community & Voluntary groups on the 2nd and 3rd of May in Waterford City and Dungarvan respectively. The workshops were delivered by John Warren of JE Warren Consulting and were full to capacity with 108 attending in total from 82 different sports clubs and community groups.
View the Slide Presentation from the Workshop
The General Data Protection Regulation (GDPR) very significantly increases the obligations and responsibilities for organisations in how they collect, use and protect personal data.
At the centre of the new law is the requirement for organisations to be fully transparent about how they are using and safeguarding personal data, and to be able to demonstrate accountability for their data processing activities.
What constitutes personal data?
The GDPR's defines personal data as: 'personal data' means any information relating to an identified or identifiable natural person ('data subject')". It adds that an identifiable natural person is one who can be identified, directly or indirectly, in particular by reference to an identifier such as a name, an identification number, location number, an online identifier or to one or more factors specific to the physical, physiological, genetic, mental, economic, cultural or social identity of that natural person.
Examples of personal data include name, home address, email, photo, bank details, posts on social networking site and medical records.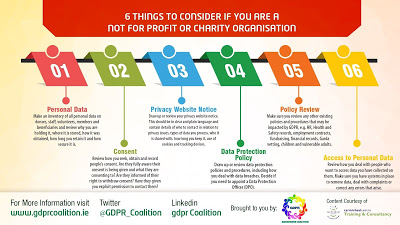 Generally, if you're unsure whether the information you store is personal data or not, it's best to err on the side of caution. This means not only making sure that data is secure, but also reducing the amount of data you store and ensuring that you don't store any information for longer than necessary. For more information and useful resources on the GDPR see www.gdprandyou.ie
---
Article Modified: December 14, 2018 11:42 am
---